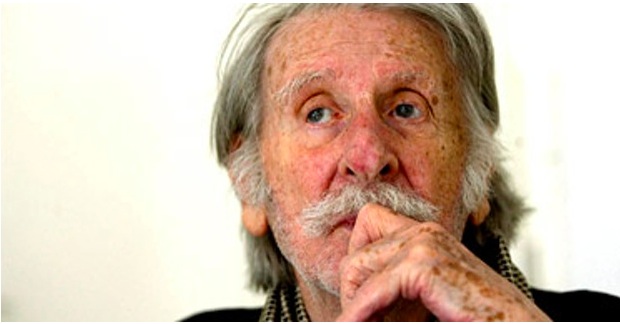 The Cannibals – the play
Tabori's modern classic was first produced in New York and subsequently in Germany in the late 1960's.
It dramatises the issue of survival and goodness, power and responsibility, remembering and forgetting set around the story of the eating of an inmate in Auschwitz which event is acted out by the offspring of the original participants.
Written in English Tabori's play is a ritual redemption of the human gouged out of the bleakness of total destitution through black comedy and grotesque iconoclastic ensemble movements.
Cast of 13 male actors.
George Tabori – The writer
George Tabori, playwright, screenwriter, novelist, theatre director, company artistic director and occasional actor has become a key figure in European Theatre and although a British Citizen is virtually unknown in the UK.
THE CANNIBALS is his key work about which he said when it was first produced in New York in 1969: "There are taboos that must be broken or they will choke us".
He was born in May 1914 to Hungarian Jewish intellectual parents. His father, Cornelius, was reporting from Sarajevo when Franz Ferdinand was assassinated a few months after his birth and later died in Auschwitz, a fate which his mother narrowly escaped, the basis of a play called MY MOTHERS COURAGE. His family, in an attempt to forestall his precocious writing urge, persuading him that there were 'almost as many writers as readers in Budapest', shipped him off to Germany to work in the hotel profession. As an eighteen year old he saw Hitler give his triumphal salute from the Chancellery and decided that "Berlin was too small for the two of us", evidence of the ironic and desperate relation with the Nazi leader later explored in MEIN KAMPF – THE FARCE.
After a brief return to Hungary he followed his older brother Paul to London where he launched into a career as a journalist working for the BBC and subsequently as a foreign correspondent in Bulgaria and Turkey. In 1941 he joined the British Army and saw service in the Middle East. In Jerusalem he met his first wife and wrote his first novel, BENEATH THE STONE which, because the central character was a German officer, received adverse critical attention.
In 1945 he was invited to Hollywood where he was later to write film scripts for such luminaries as Hitchcock ( I CONFESS) and Losey ( SECRET CEREMONY). However most important for his future artistic direction was his encounter there with Brecht with whom he worked on the English version of GALILEO. This ignited his passion for theatre.
Influenced by his meetings with actors like Montgomery Clift and Marilyn Monroe he studied at The Actors Studio in New York under Lee Strasberg. It was here that his extraordinary sense of the historical was complemented by a deep psychological exploration. Later he wrote SIGMUNDS FREUDE inspired by his encounter with Gestalt Therapy. Meanwhile his plays were beginning to be produced on the American stage, notably FLIGHT INTO EGYPT directed on Broadway by Elia Kazan. Although named during the McCarthy 'witch-hunt' Tabori stayed in the US until 1970. After the frosty reception given there to THE CANNIBALS (1969) he caused an outcry with his work PINKVILLE (1970), an indictment of the US war in Vietnam.
He was invited to produce the former play at the Schiller Theatre in Berlin. Having sworn he would never return to Germany he accepted saying: "I took an attitude which helped me to survive all these years of Fascism and war, namely that of curiosity". THE CANNIBALS was a sensational and provocative hit.
He settled in Germany, writing for television, radio and theatre. In 1975 he took up the artistic direction of the Bremen Theatre Laboratory where he produced a series of experimental productions. His adaptation of Kafka's HUNGER CHAMPION involved the actors in a 42 day medically supervised fast which provoked the City authorities to close the Laboratory. The company went on producing throughout Germany and Austria.
When the Berliner Ensemble reopened in 2000 it did so with Tabori's Brecht File and Brecht on Brecht. He is the recipient of a number of internationally renowned prizes for his work culminating in 1992 with the Buechner Prize. Tabori died in 2007.
Az Theatre's approach to the play
Our aim
Our aim with this production is to create a piece of theatre which enables our audiences to engage with key human dilemmas of our time.
This involves a collective, creative and imaginative act. Central to this is the re-imagination, for our generation and our epoch, of the moral space of the concentration camp.
Auschwitz as an aspect of our culture
The conception, construction and operation of concentration camps under the German National Socialist regime, of which Auschwitz was the biggest and most developed, has presented Western culture with a reflection of our own primordial potential.
This event has become an aspect of our culture and mentality. For all those who are conscious of it, it has become a part of their inner life into which they imaginatively project themselves. Thereby it forms a part of a cultural landscape through which we test out who we might be, what our nature is and how we recognise ourselves.
Tabori's play depicts an event in Auschwitz as it is re-enacted by the offspring of the original participants guided by two survivors.
Remembering
This re-enactment is like a remembering. There is something compulsive about it as if the events force themselves on the 're-enactors' like a repressed trauma will seek a way of finding expression, erupting through the resistant layers of forgetting. The memory has become, as it were, a part of the genetic structure of the 're-enactors'. Like creatures in hell or purgatory they play out the essential torture of their spiritual and physical existence.
Acting Out
The moral dilemmas of the play and the social and inner spaces in which they are active are embodied in an image of 'acting out'. This metaphor is deepened and affirmed by the character, UNCLE, who presents a key element in the moral polarities of the play and who is, by nature and profession, an actor.
The play unfolds this metaphor into a general consideration of the social and spiritual role of art and artists.
Key Questions
What are the limits of own goodness? To what mores of which group do we adhere? What kind of responsibilities do we have for actions carried out in our name? How do we submit to the conforming prejudices that dominate our social and group structures? On whom do we depend for our survival? What is the nature of this dependence? What is that which survives if we abandon our moral identity? What is the composition and constitution of the individual in a mass society? What identities and communities intersect within us?
Our Approach
We would not consider producing the play under just any circumstances.
We require a substantial rehearsal period. We are setting the creative process within a multiplicity of strategic processes relating to marketing, education and community. These processes are integral to the artistic heights and depths to which we aspire. They are not adjuncts to it.
The setting of the production of the play within a philosophical, cultural, intellectual and social process, linking the act of theatre to a myriad of social structure and activities is not customary in anglo-saxon culture. Since our aims lie critically disposed towards the basic integuments and underpinnings of that culture it is unsurprising that our approach may seem elaborate and conscious.
Moral complexity and theatricality
We are setting out to question the moral simplicities of the routine categorisation of good and evil, as if evil something 'over there' and by implication good is 'here'. This is integral to the imaginative,transformative act of theatre. Neither are we unconscious of the fact that the play in its displays, its nakedness, its irony, its wit and its extraordinary characterisations is bitingly funny, riddled with dark humour and grim glamour.
The acting company
Our approach is to create a culturally diverse experientially rich and artistically sophisticated acting company, one that reflects our own conjuncture and circumstances. Our proposition is that we are the inheritors of the concentration camp space, that we can and must re-imagine its moral contours. Working today two or three generations beyond the original events we will create a conduit to the original situation and meta-situation of Tabori's drama.
The inner journey
This connection will be made through an approach which engages with our own interior darkness. The act of theatre must in this instance involve an inner journey to the place of our own self definition where we confront the demonisation of the other. All this is an essential part of our re-imagining of the ground of Tabori's play.
Piles of stories
Reflecting the various piles of objects which are described in Georg Tabori's stage directions is a pile of stories. The stories of the participants are heaped up around the base-line story of the death, cooking and eating of PUFFI.
Our bodies
The play is about our bodies, what we do with them, what limits they impose, what identities they imply, what needs they submit us to, of what essential use they are. The play requires a radical physical theatre and ensemble-playing of consummate skill and depth.
The role of the actor
This why we are centring our work on the transformative capacity of the actor. It is the actor who is the living conduit between the body and the imagination and is the human instrument of our contemporary re-connection with the act of remembering which lies at the plays centre.