GAZA DRAMA LONG TERM is a ten-year (2009-2019) cultural exchange partnership between Theatre for Everybody (Gaza) and Az Theatre (London)
You want to read the some of the documents relating to the creation of this project?
This is the story so far:
Gaza Guernica
In 2009 we supported Theatre for Everybody's production of Guernica by Arrabal. It was presented at a theatre festival in Gaza. This was the event we organised: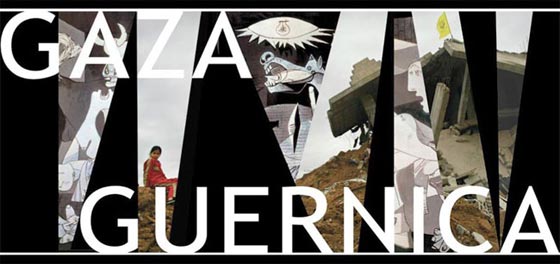 A reading of Arrabal's Guernica plus scenes from contemporary life in Gaza as written by Theatre for Everybody
Launch event:
Saturday 12 June 2010, 12.30 pm lunchtime
Soho Theatre, 21 Dean Street, London W1D 3NE
"This extraordinary play about the Falangist/Luftwaffe bombing of the ancient Basque town during the Spanish Civil War, including its haunting images of Picasso's painting and its tragic comic dialogue between a man and his wife who is stuck on the toilet during the bombing raid, was first produced in 1961.
Our readers included: David Calder, Anna Carteret, Richard Clothier, Tara Fitzgerald, Stephen Lowe, Richard O'Callaghan, Hilton McRae, Roger Lloyd Pack, Jennie Stoller, Harriet Walter and more…"
Gaza Breathing Space
In 2009 we launched our Gaza: Breathing Space project. This project carried out in Gaza in 2010 involved Theatre for Everybody working with young people in need in two rehabilitation centres, Jabalya and Deir El Balah. This is how we presented this project:
from Az Theatre initial announcement:
"GAZA: Breathing Space is Az Theatre's next collaboration for the Gaza Drama Long Term project and it will take place during the Autumn of 2010. Az Theatre's ten-year project Gaza Drama aims to improve the lives of young people in Gaza and develop an international dialogue about the use of theatre and the impact of violence on future generations.
BE ONE OF 450 – As one of 450, you will contribute to a drama therapy programme in Gaza being carried out by a small theatre company 'Theatre for Everybody' in conjunction with community mental health organisations in Gaza.
This programme will last 8 weeks and will allow 40 young people to work through the suffering of their daily lives through theatre.
On Saturday 30th October 2010 we presented an event at Soho Theatre, London focused on the Gaza: Breathing Space project."
The GAZA Breathing Space film
In November 2011 Jonathan Chadwick visited Gaza and this is the film he shot about life in Gaza at that time and the impact of the Gaza: Breathing Space project.
Gaza Opening Signs
In the autumn of 2011 and throughout 2012 Az Theatre and Theatre for Everybody worked to create a project that brought young people who were deaf or with impaired hearing together with young people who could hear. This is the way we presented this project:
Why not buy a ticket for a show you will never see?
Pay us what you would for a theatre ticket £5? £20? £45? and for eight weeks 20 young people in Gaza, deaf and hearing working together, will have a drama experience of a lifetime!
We need to raise £12,000 by finding 480 people who are willing to pay on average £25 towards our GAZA:OPENING SIGNS project
The GAZA OPENING SIGNS project is a programme of training and drama workshops for deaf and hearing children in Gaza run by Theatre for Everybody. They are training in signing and will train a deaf drama workshop facilitator especially for this work. The workshop programme will start in September 2012.
We created an exchange programme between the young people in Gaza and students at a College Park School in Westminster, London.
WAR & PEACE: GAZA (PALESTINE)/ LONDON (UK)
In 2013 Az Theatre and Theatre for Everybody started work on developing WAR & PEACE: GAZA (PALESTINE)/ LONDON (UK):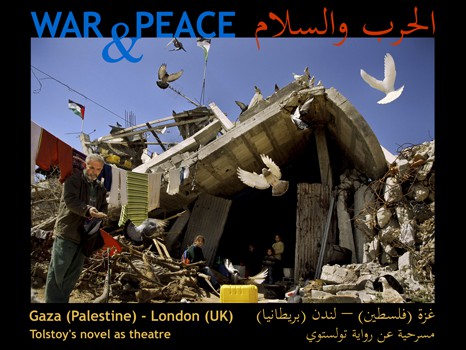 We launched this project at an event on Sunday 14th September 2014 at Rich Mix, Shoreditch, London.
For a comprehensive illustrated report on War & Peace: Gaza (Palestine)/London (UK) up to May 2016 please CLICK HERE
Event programme: look at who was involved and read more about the event: ProgramVersion1JC2
We ran another event on Sunday 18th January 2015 at Rich Mix, Shoreditch, London where we made a public reading of Jonathan Chadwick's stage adaptation of RESURRECTION by Tolstoy and held a conversation via skype with Hossam Madhoun and Jamal Al Rozzi in Gaza.
RESURRECTION
WAR AND PEACE, world premiere Arabic Stage adaptation of Tolstoy's novel
On 9th May 2015 Theatre for Everybody presented their workshop version of Tolstoy's War & Peace at the Al Meshal Cultural Centre in Gaza City.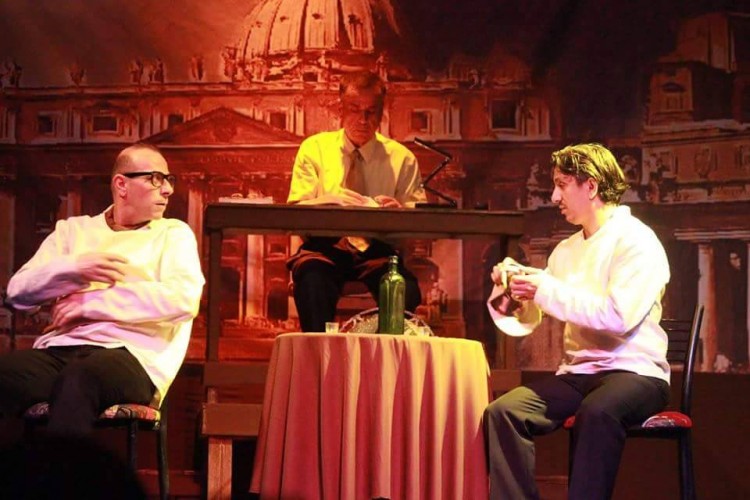 photo: Hossam Madhoun as Pierre Besukhov, Naem Nasr as Narrator and Baha Elyazji as Andrei Bolkonski
Here is a review of the performance published in Al Watan
Here is a TV report from Russia Today
SIMULTANEOUS – WAR & PEACE – GAZA/LONDON
On Sunday 13th September 2015 Theatre for Everybody made another presentation of the workshop version of War and Peace at the same venue. This time the creative team of ten people had an audience of 190 people. At the same time in London an audience of 90 people watched a video of the first presentation and then there was a conversation between the two audiences in Gaza and London via live video link.
The International Performers Aid Trust provided £900 support for this second presentation.
A short film was made and networked internationally by Telesur about the preparation and performance of this second presentation. View this on Youtube
Here is the programme for SIMULTANEOUS – WAR & PEACE – GAZA/LONDON event on Sunday 13th September 2015 in London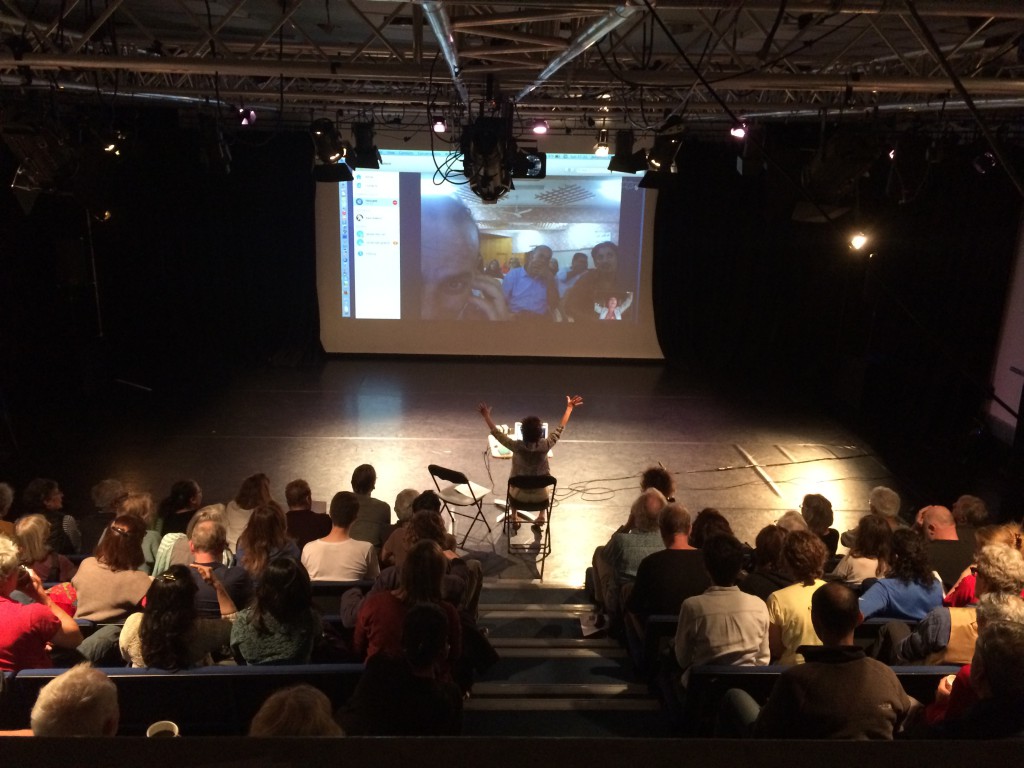 Here is a photograph from the SIMULTANEOUS event showing the live video exchange on Sunday 13th September at Rich Mix, London and Al Meshal Cultural Centre in Gaza:
UNFORESEEN – WAR STORIES ENCORE – GAZA/LONDON
As a result of the presentations of the workshop production of War & Peace by Theatre for Everybody in Gaza many people, especially young people, approached the company asking to be involved in our project.
We sent the £1000 raised through the SIMULTANEOUS event to Theatre for Everybody to work with a group of young creatives in Gaza.
We called this work UNFORESEEN and we worked towards an event on January 24th 2016 when we presented the work and a video link-up between the audience in London with the young artists in Gaza.
In Gaza the work was undertaken as a collaboration between Theatre for Everybody and the activist journalism project We Are Not Numbers
Here is the programme for the UNFORESEEN event on Sunday 24th January 2016:
You can find out more about the young artists from Gaza and see their spoken word videos by visiting the Az Theatre blog.
You can see a video of the UNFORESEEN event on vimeo here: password is: Gaza2016
HERE, THERE, EVERYWHERE: LONDON – GAZA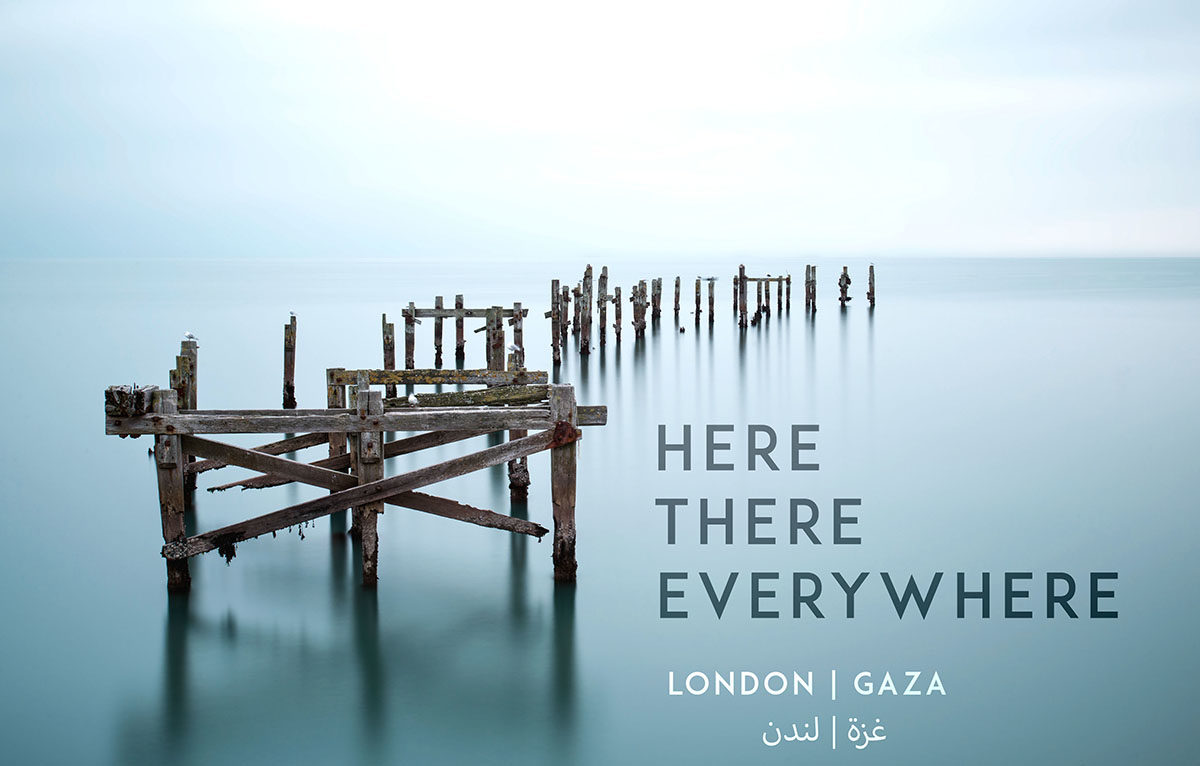 P21 Gallery London November 2017
HERE THERE EVERYWHERE: GAZA-LONDON
Az Theatre presented video-linked live Gaza-London conversations plus exhibition of art-work from Gaza at P21 Gallery 7th-11th November 2017
Theatre for Everybody's world premiere Arabic stage adaptation of Tolstoy's War & Peace was being performed to hundreds of people in Gaza City and Khan Younis, meanwhile Az Theatre was presenting live video conversations between London and Gaza with writers, artists, theatre makers, parents, teachers, filmmakers, community activists, lawyers, justice-seekers, Shakespeare students, public health experts, environmentalists, psychotherapists, young creatives and paramedics.
With art-work by Hazem Harb http://www.hazemharb.com selection of work from Art Under Seige http://www.we-gaza.com , from Palestine Regeneration Team: https://www.ngarchitects.co.uk/gaza-learning-room installation and exhibition designed by Louie Whitemore http://louiewhitemore.com
Our programme: http://aztheatre.org.uk/wordpress/gaza-drama-long-term-2/here-there-everywhere-gaza-london-p21-gallery-7-11-november-2017/
"The idea is that each of these conversations will be made more meaningful because all the other conversations are happening. We want to link things up. We want to break down the isolation of Gaza. We want to undermine the blockade" Jonathan Chadwick, Az Theatre Director
The events featured a live exchange between community activists in Gaza and in Rojava, Northern Syria organised in partnership with Peace in Kurdistan. We also showed Mohamed Jabaly's AMBULANCE http://www.ambulancegazafilm.com and Antonia Caccia and Maysoon Pachachi's groundbreaking documentary VOICES FROM GAZA (1989) in celebration of the 30th Anniversary of the Palestinian Intifada: https://www.allmovie.com/movie/voices-from-gaza-v270768
This programme was organised with help from International State Crime Institute, SOAS Centre for Media and Communications, Philipa Harvey from the National Union of Teachers, Mark Beacon from UNISON, staff members at the Islamic University of Gaza, Palestine Trauma Centre, UK-Palestine Mental Health Network and Theatre for Everybody.
For further thinking about War & Peace and Gaza read Az Theatre blog:
http://aztheatre.org.uk/wordpress/2017/08/14/thoughts-and-questions-about-tolstoys-war-peace-in-gaza-and-the-war-on-terror/
HERE THERE EVERYWHERE: GAZA-LONDON is the latest phase of a ten-year cultural exchange partnership between Az Theatre (London) and Theatre for Everybody (Gaza). For more information: http://aztheatre.org.uk/wordpress/gaza-drama-long-term-2/
GAZA CULTURAL CENTRE COALITION
In August 2018 the Al Mishal Cultural Centre where Theatre for Everybody presented War and Peace was completely destroyed by aerial bombardment by Israeli armed forces. Az started a world-wide campaign to rebuild a cultural centre for Gaza. Find out more here
THE EMIGRANTS in GAZA
In 2020 Az Theatre and Theatre for Everybody started to develop an adaptation for Gaza of Mrozek's modern classic THE EMIGRANTS
Read the review of THE EMIGRANTS in Al Adhaf News
See the short promotional video by Ibrahim Issa
GAZA: SUPPORT THE CHILDREN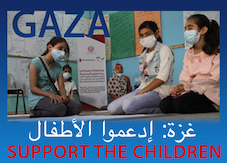 In 2021 Az Theatre and Theatre for Everybody carried out a programme of life skill and resilience sessions for children in the areas most crucially affected by the May 2021 attack on Gaza