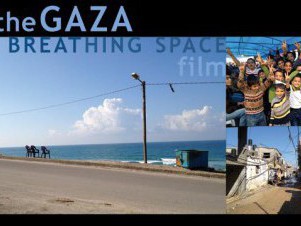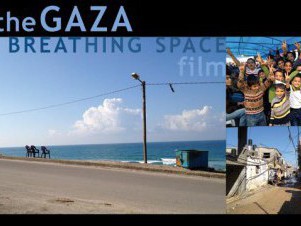 It's because of all the things I didn't have as a child that I want the children here to have something with beauty……because who knows what life will bring!"
Sahar Al Mozain, worker at Deir Al Balah Rehabilitation Centre
Please contact Az if you want to see this film or organise a screening
In the winter of 2008/9 in response to the Israeli attack on Gaza Az Theatre (London) and Theatre for Everybody (Gaza) launched GAZA DRAMA LONG TERM, a 10-year collaboration.
The second stage of this project is GAZA BREATHING SPACE, a programme of drama sessions working with the young people who have been most disturbed by the impact of organised armed conflict.  This work takes place at the Rehabilitation Centres in Deir Al Balah and Jabalya refugee camps.
THE GAZA BREATHING SPACE FILM is a record of this work and the personal and professional journey undertaken by Az Director, Jonathan Chadwick, to Gaza in November 2011 to meet and talk to participants, families and workers involved.  It offers a unique insight into the work with young people being undertaken by Gaza artists and an intimate portrait of life, resilience and resistance behind the blockade.
The film was shot on a simple DV camera by Jonathan Chadwick and edited by Maysoon Pachachi
Audience Comment on THE GAZA BREATHING SPACE FILM
" I saw it last Monday and it is absolutely GREAT!" Dr Gottfried Heuer, Jungian Analytical Psychotherapist
"I thought your film was so authentic, sensitive and moving and beautifully shot and edited, the people just speak for themselves, freely – breathing…. so important to see the reality of day to day lives within the struggle and injustice." Ruth Lass, Actor
"Wonderful, special film. Must have been good to hear the laughs, of recognition, of relief…The children enacting adult behaviour, their curiosity about tunnels reflecting our own amazement at the fact that there are over eight hundred of them, or turning the treacherous territory they negotiate every day into a slippery, surreal floor on the stage." Anthony Meyer, Artist.
"Just wanted to say, again, how moving, amusing and brilliant your Gaza film was. The audience comments were right about the unique insight it gave." David Harold, Actor, Teacher and Activist
"That was a wonderful evening. I mean truly wonderful and changing." Nick Jacobs, writer, publisher and translator
"It's a great and necessary film" Gareth Evans, writer, editor and curator
"Congratulation! This is an amazing piece of work with all of your effort to produce a film which has a quite complicated and interesting concept. The film was incredibly and beautifully balanced. It is a reminder of where my people live in overcrowded, polluted and dangerous conditions whether these relate to civil, cultural, economic, political or social issues." Aser Saqqa, Arts producer
"wonderful film….It was refreshing to see the Palestinians of Gaza portrayed as ordinary people. This, in turn, made the fact of their occupation even worse."  Amena Saleem, Campaign Organiser and Activist
Gareth Evans review of THE GAZA BREATHING SPACE FILM for New Statesman is on http://www.newstatesman.com/blogs/cultural-capital/2012/02/gaza-theatre-film-practice