Welcome
Event: Come to MESSAGES FROM GAZA NOW #3 P21 Gallery London Tuesday 5th December 7pm

read more
Another Day: Messages from Gaza Now – read more
Read all of Hossam Madhoun's Messages from Gaza Now – read as a blog
Messages from Gaza Now – en Français – ici
Messages from Gaza Now – en Espanol – aquí
Messages from Gaza Now – in Arabic – here
Messages from Gaza Now – in Italiano – qui
Messages from Gaza Now – auf Deutsch – Hier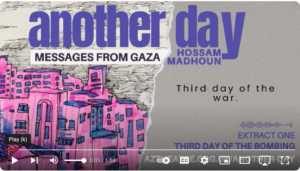 Read more about MOVE ME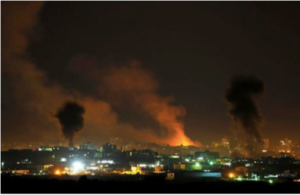 The complete set of 'blog from Gaza' is now available here. During the war on Gaza in 2014 Hossam Madhoun and others there kept up a constant flow of messages.
The blog forms a graphic testimony to the experiences of people during a devastating military attack.  There are 34 messages sent between 18th June 2014 'What a surprise! Gaza Under attack!' and 5th October 2014  'No bullets or blood, just pain'.  This was happening while Theatre for Everybody and Az Theatre were launching their collaboration on the premier Arabic stage version of Tolstoy's 'War and Peace'
Read the mappa mundi blogs here.  From August to October 2012 Jonathan Chadwick wrote 20 blog pieces about the development of this innovative drama video project.
As well as tracking the development of mappa mundi the blogs reflect on questions of knowledge, transition and models of change